While this may not be one of the must-see attractions of Kuching, it is worth checking out if there are children in your entourage, for despite its name, this is actually a mini zoo with many interesting wild animals of Sarawak. Besides the hundreds of crocodiles, both large and small, there are river otters, porcupines, wild boars, monkeys, sun bears and a collection of birds, and a kind of giant fish native to South America.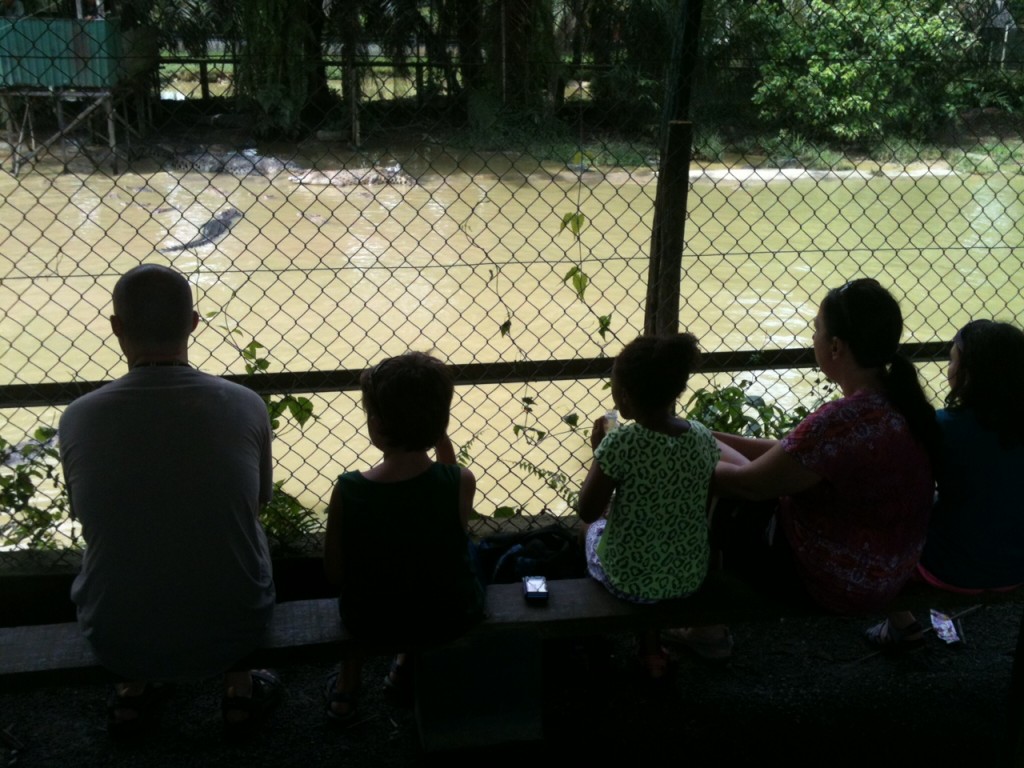 Within its sprawling compounds are large animal enclosures and several man-made ponds where Mr. Jong's crocodiles call home. Everyday at 11.00am and 3.00pm, there is a "jumping crocodile show", where the keepers/feeders will dangle chicken carcasses on a cable and wheel it out like a cable car until it reaches the middle of the pond. When the reptiles see their dangling food, they make a lunge for it. However, they are not always successful, as the feeders jerk the cable upwards when the crocodiles are on target. so that the spectators can hear the snapping sound of powerful jaws, and get to imagine the horror of being punctured by rows of sharp teeth. When the reptiles do get to snap at their food, there's applause from the audience.
Finally after half and hour of teasing the reptiles (and the audience), the feeders decide to throw the remaining chicken to the horde of reptiles waiting patiently at the bottom of the feeders' kiosk, which results in a momentary frenzy among them as they scramble for the feed, and this in itself is quite a spectacle too.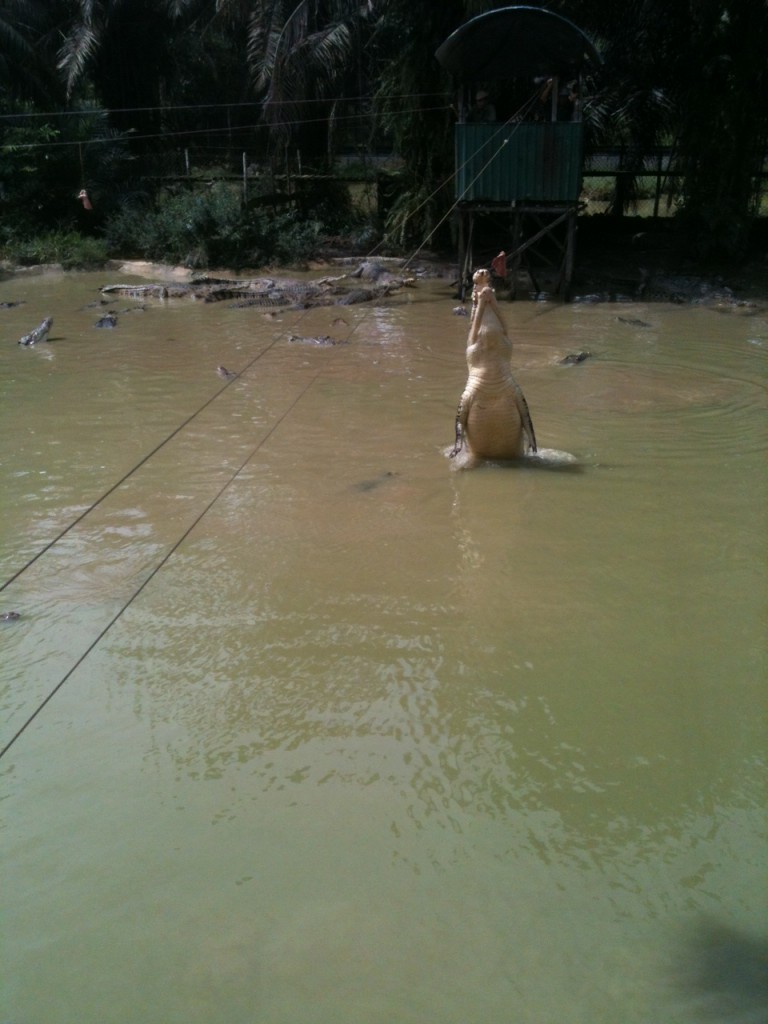 After the feeding, most visitors adjourn to the adjacent pond covered with beautiful lotus for the giant fish feeding. Through the semi murky water, what look like dozens of giant Japanese koi fish swim gracefully and snap at the food thrown in by the feeders.
Beside these two animals, there are many other reptiles like the tortoises, turtles, snakes, giant iguanas and fishes. Mammals found here are wild boars, macaque monkeys, otters, porcupines, peacocks, mandarin ducks, a few pygmy roosters and so on.
There is a canteen to cool down and have a bite with the snacks and drinks on sale. Also, the souvenir shop is strategically placed at the exit to catch some tourist dollars before the visitors depart. All in all, a nice way to spend a morning or afternoon.
The journey to and from Kuching city centre passes through the townships of Kota Sentosa (7th Mile), Kota Padawan (10th Mile) and Siburan (17th Mile), all of which are bustling centres and have lively weekend morning markets that are worth a visit too. There are plenty of eating places in these centres and visitors are advised to visit them for a taste of life in the surburbs of Kuching.